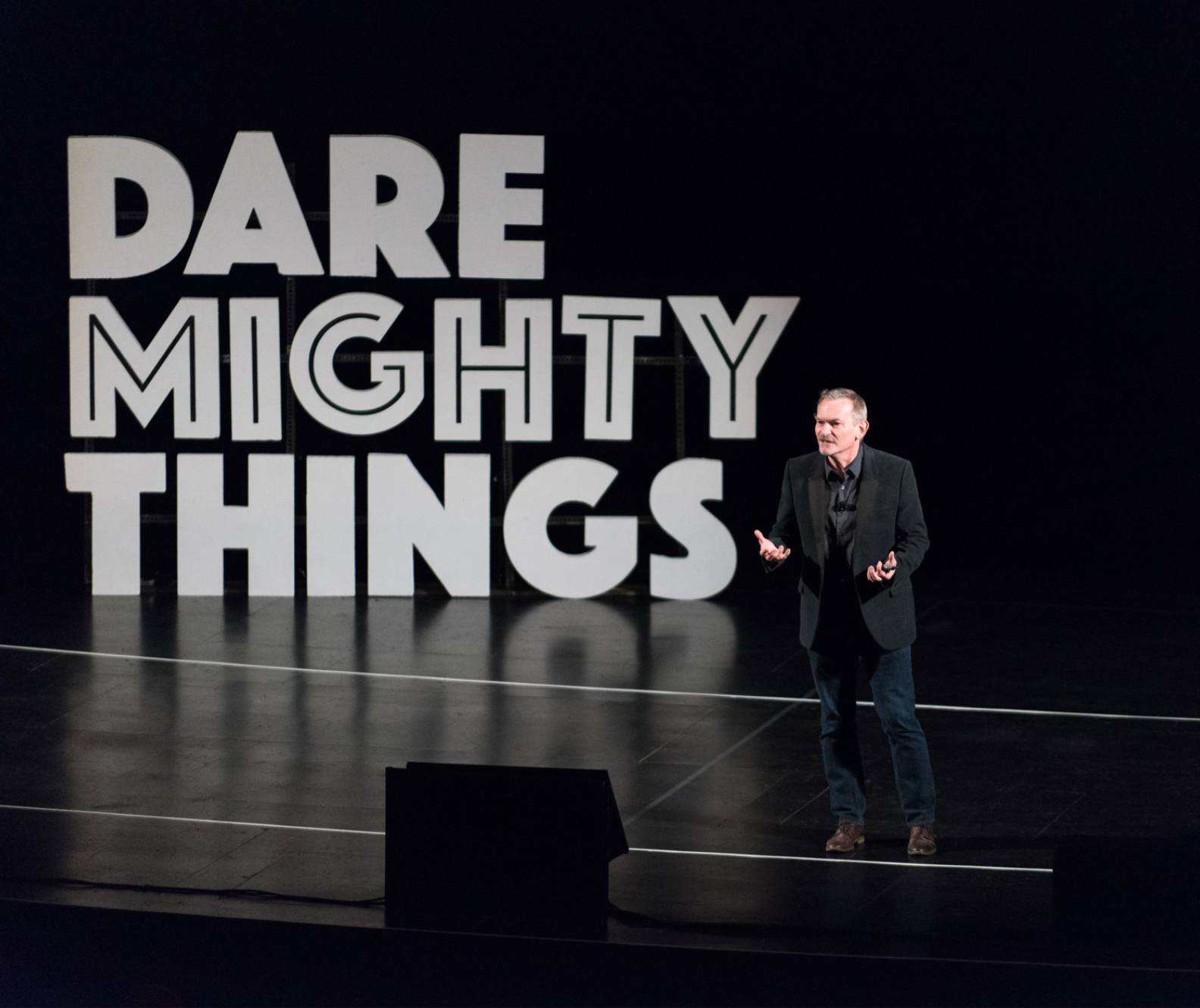 "....one of the
world's most inspiring
tech conferences."

People
Dare Mighty Things
Watch The Video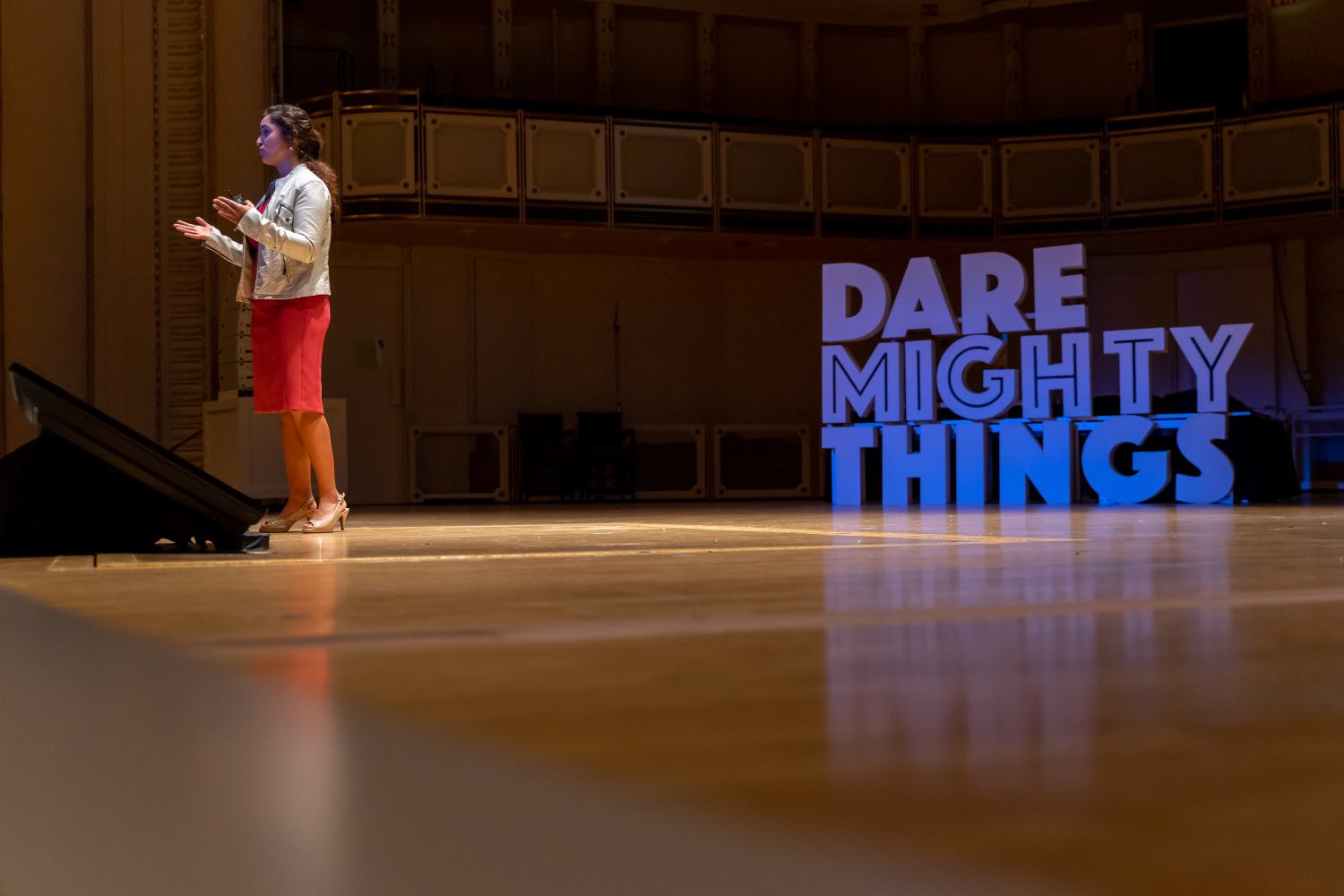 One of
"4 Tech Conferences You Can't Afford To Miss"


Be the first to know about news, speakers, registration options & more

How do you get people
to do things they thought
weren't possible?
You show them examples of those who did the 'impossible'.
That is the purpose of Dare Mighty Things.
Join us Oct 28th in Chicago to hear 10+ inspiring stories from the world's most influential innovators who never gave up.
1000+ Tech executives, investors, developers, creatives & global media from 35+ cities - they'll all be here.
Where will you be?
Register Now
Hit play. You'll love this :)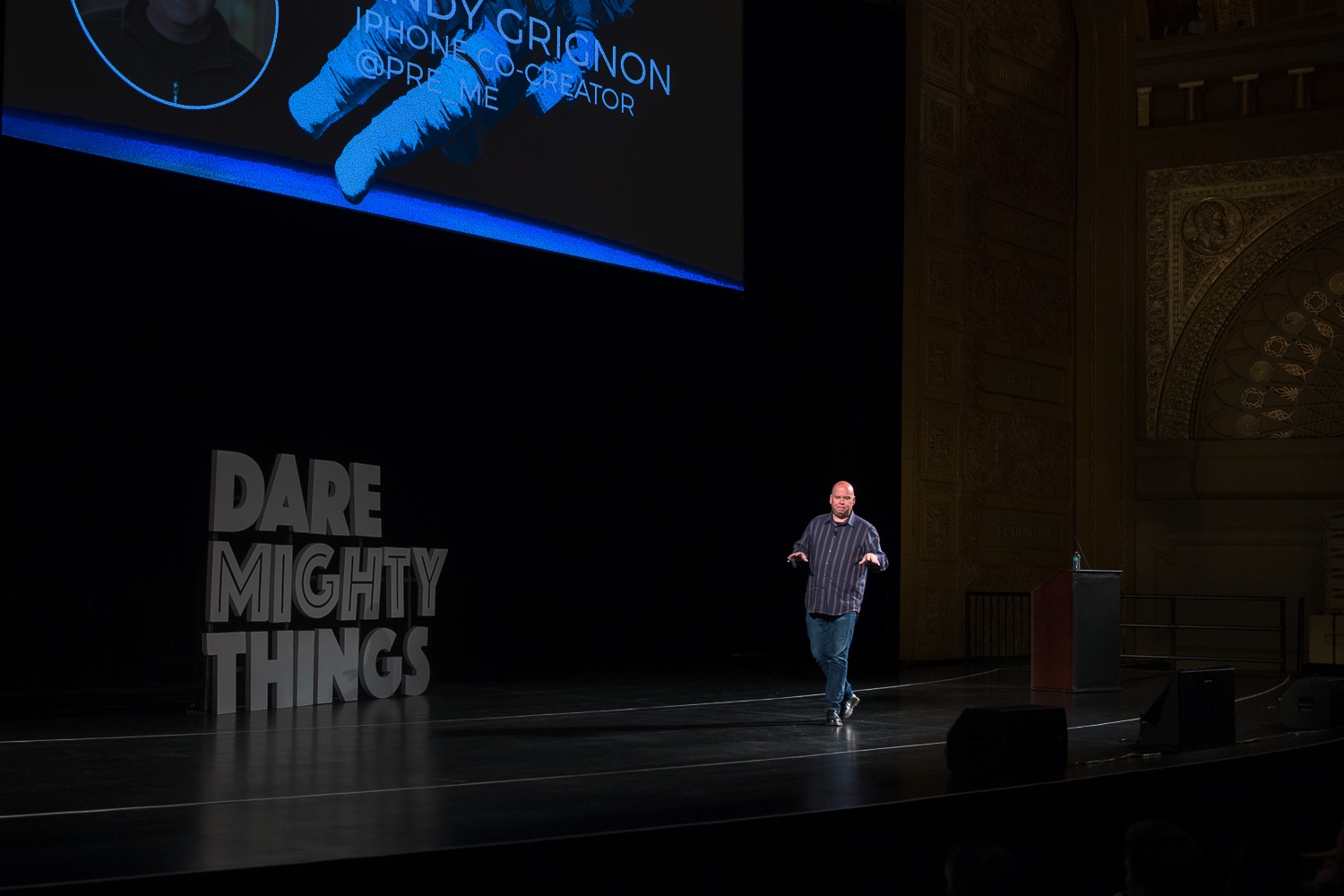 "I loved being part of it.
You could tell there was
something special in the air...

like everyone knew they were
part of something greater than themselves."

~ Andy Grignon
Helped Steve Jobs
Build The iPhone
Our World Class Speakers
Will Inspire You
What does it take...

To build FLYING cars?

To travel to space?

To build Siri?


They took on HUGE challenges...and NEVER gave up.

They Dare Mighty Things....and you can too.
10+ Inspiring Speakers
Dr. Linda Godwin
Astronaut

Dr. Linda Godwin
NASA Astronaut (Retired)

---

Dr. Linda Godwin is a veteran of four space flights, logging over 38 days in space, including over 10 EVA hours in two spacewalks. In 1991 she served as a Mission Specialist on STS-37, was the Payload Commander on STS-59 in 1994, flew on STS-76 in 1996, a Mir docking mission, and served on STS-108/International Space Station Flight UF-1 in 2001.

Her technical assignments have included working with flight software verification in the Shuttle Avionics Integration Laboratory (SAIL), and coordinating mission development activities for the Inertial Upper Stage (IUS), deployable payloads, and Spacelab missions. She also has served as Chief of Astronaut Appearances, Chief of the Mission Development Branch of the Astronaut Office and as the astronaut liaison to its Educational Working Group, Deputy Chief of the Astronaut Office, Deputy Director, Flight Crew Operations Directorate, Chief of the Astronaut Office CAPCOM Branch, and Assistant to the Director for Exploration, Flight Crew Operations Directorate at the Johnson Space Center. Dr. Godwin retired from NASA in August 2010.

Currently, Dr. Godwin is a Professor in the Department of Physics and Astronomy at the University of Missouri.
Adam Cheyer
Co-Founder, Siri &
Co-Founder, Viv Labs
Adam Cheyer
Co-Founder, Siri & Co-Founder, Viv Labs

---

Adam Cheyer is an inventor, entrepreneur, and engineering executive who explores how computers can augment individual and collective intelligence. He is currently co-founder and VP Engineering of Viv Labs, whose goal is to simplify the world by providing an intelligent interface to everything. Viv Labs is now a wholly-owned subsidiary of Samsung.

Previously, Adam was co-founder and VP Engineering of Siri, a virtual personal assistant for your phone. Apple purchased Siri in 2010 to power the iPhone's voice interface.

Adam is also a founding member, advisor, and first developer of Change.org.

Adam authored more than 60 publications and 26 issued patents as a researcher in Artificial Intelligence at SRI International. He was Chief Architect of CALO, the largest AI project in US history.
Dr. James Beacham
Particle physicist
Large Hadron Collider @ CERN
Dr. James Beacham
Particle physicist at Large Hadron Collider @ CERN

---

Dr. James Beacham is an experimental high-energy particle physicist at Large Hadron Collider at CERN.

His research focuses on finding explanations for some of the key unsolved mysteries of the universe, like determining what dark matter is, whether the Higgs boson is standard or not-so-standard, why gravity is so weak compared to the other forces of nature, and whether there are hidden, dark sector forces that we've yet to uncover in collider experiments.

His current focus is the ATLAS Experiment, one of the detectors at the Large Hadron Collider (LHC), at CERN, looking for new particles and phenomena, including dark force carriers, dark QCD, gravitons, exotic decays of the Higgs boson, rare Z boson decays, and other beyond-the-Standard Model scenarios. A large part of his research involves photons and the extremely efficient way in which they allow us to hone in on possible new particles, and the other large part focuses on long-lived particle searches and the unique and unconventional methods we need to use to ensure that the ATLAS detector is sensitive to these signatures.
Ricky Solórzano
Biotech Pioneer
Ricky Solórzano
Co-Founder & CEO, Allevi

---

What if you could have a 3D printer that can print LIVING tissue? Allevi Bioprinters allow you to "Build With Life", helping scientists create more accurate hearts, lungs, brains in the lab...and even space

Ricky built the prototype Allevi 3D bioprinter in his dorm room after he was frustrated by the high cost and inaccessibility of equipment. Now, as CEO, Ricky leads the company to scale and growth to change the way medicine is done.

His vision for Allevi is shaping the future of both bioengineering and bio-fabrication. He's earned global recognition on lists like Forbes 30 under 30, Inc 30 under 30 and Buisness Insider 100.
Dr. Anita Sengupta
Autonomous Flying Car Pioneer

Dr. Anita Sengupta
Co-Founder & Chief Product Officer
Airspace Experience Technologies (ASX)

---

Dr. Anita Sengupta is Co-Founder and Chief Product Officer at Airspace Experience Technologies (ASX), an electrified autonomous VTOL urban aerial mobility technology company. As an engineering savvy executive and pilot, she is now leading the mobility solutions for smart cities by eliminating congestion and reducing the carbon footprint of air travel.

Previously, Anita was SVP of Engineering Systems at Hyperloop One, a new form of transportation initially envisioned by Elon Musk that can travel 760+ MPH.

Dr. Sengupta is an aerospace engineer and veteran of the space program, where she worked for NASA's Jet Propulsion Laboratory for over 15 years. Her NASA engineering projects included her PhD research on developing the ion propulsion system for the Dawn Mission (currently in the main asteroid belt), the supersonic parachute that landed the Curiosity rover on Mars, and the Cold Atom Laboratory an atomic physics facility for the International Space Station.
Mike Foreman
Astronaut

Mike Foreman
NASA Astronaut (Retired)

---

Mike Foreman is a retired U.S. Navy pilot and a NASA astronaut. He flew on two space shuttle missions, as a mission specialist for STS-123 on space shuttle Endeavor in March 2008. His next mission was STS-129 on space shuttle Atlantis in November 2009.

He accumulated more than 26 days in space, conducted five spacewalks, and has logged more than 637 hours in space, including 32 hours and 19 minutes of EVA in five spacewalks and performing space station assembly tasks.

He also served as chief of External Programs at NASA Glenn Research Center in Cleveland, Ohio from June 2010 through May 2011. During his final three years at NASA, he served as the Safety Branch Chief in the Astronaut Office. There, he supported the Exploration Branch, working on the Commercial Crew Development Program. He retired from NASA in 2015 to join Venturi Outcomes LLC.
Steve Chien
Head of Artificial Intelligence Group, NASA JPL

Steve Chien
Head of Artificial Intelligence Group NASA JPL

---

Dr. Steve Chien is a Senior Research Scientist at NASA's Jet Propulsion Laboratory, where he leads efforts in autonomous systems for space exploration. Dr. Chien has received numerous awards for his research in space autonomous systems including: NASA Medals in 1997, 2000, 2007, and 2015; he is a four time honoree in the NASA Software of the Year competition; and in 2011 he was awarded the inaugural AIAA Intelligent Systems Award. He has led the deployment of ground and flight autonomy software to numerous missions including the Autonomous Sciencecraft/Earth Observing One, WATCH/Mars Exploration Rovers, Earth Observing Sensorwebs, IPEX, and ESA's Rosetta.
Davyeon Ross
Wearable Tech Pioneer

Davyeon Ross
Co-Founder, ShotTracker

---

Davyeon Ross is a wearable tech pioneer who's changing the world of sports through sensors, machine learning and augmented reality.

He's the co-founder and President of ShotTracker, a company revolutionizing the game of basketball. Investors include people like Magic Johnson and Former NBA Commissioner David Stern.

ShotTracker is a sensor-based system that instantly delivers statistics and analytics to teams, fans and broadcast networks like ESPN & CBS. It's currently being utilized by 61 men's and women's college basketball programs spanning 12 conferences.
Rosanna Myers
Robotics Pioneer
Rosanna Myers
Founder, Carbon Robotics

---

Rosanna is a multidisciplinary software engineer and product designer who champions human-centered design and deep systems analysis. Rosanna grew up in a small farming village, where she got her start rebuilding old racing cars with her father. This ignited her passion for production and how new technology can transform infrastructure.

Rosanna first studied robotics and computer science at Duke, kicking off her career as a software developer. She specialized in scalable productivity tools, with work taking her everywhere from Costa Rica's jungles to China's electronics markets. At Carbon, she wrote the first software and invented core novel sensing and training technologies.

Rosanna was named to Forbes 30 Under 30 and has been featured in IEEE, The New York Times, The Atlantic, Recode, Inc Magazine, Forbes, The Guardian, and Bloomberg among others.
Dr. Justin Sanchez
Neural Interfaces: Connecting Brains to Machines
Dr. Justin Sanchez
Life Sciences Research Technical Fellow at Battelle

---

Dr. Justin Sanchez is currently Life Sciences Research Technical Fellow at Battelle Memorial Institute where he provides strategic direction and technical leadership for national security and commercial businesses.

Previously, he served as the Director (SES) of the Biological Technologies Office (BTO) at DARPA where he developed breakthrough technologies and capabilities in areas of neurotechnology, gene editing/synthetic biology, and outpacing infectious diseases.

He was responsible for developing the biotechnology strategy for DARPA and for evaluating the scientific merit and impact for over 30 DARPA programs in biotechnology totaling nearly $300 million in annual investments at national labs, industry, and academic institutions.
Our world class venue

Orchestra Hall
at
Symphony Center
Register Now
Do you want to inspire your team?

Contact Us for group pricing
Why People
Dare Mighty Things
Register Now
VIP Conference

By Invite Only
1495
Apply Now
Exclusive VIP Access
Exclusive VIP Networking
Exclusive VIP Seating
...and more
Regular Price (Conference)

495
ALMOST SOLD OUT
Register Now
Experience Amazing Talks
Meet like minded people
Access after party
LAST CHANCE (Conference)

595
Register Now
Experience Amazing Talks
Meet like minded people
Access after party
Schedule
Looking for Lodging?
Hotels in the Chicago Loop area
---
Note: we have no affiliation with these entities. These are just a few places that previous attendees have stayed at.


---
26 Oct -
27 Oct

24h App Building Challenge

09:00a Oct 26th -
10:00a Oct 27th

McDonald's Corporation Headquarters

110 N Carpenter St, Chicago, IL (Map)

---

28 Oct

Conference

8:00AM-4:15PM

Orchestra Hall at Symphony Center

220 S Michigan Ave, Chicago, IL (Map)

After Party

4:30PM-7:00PM
---
Thanks To Our Sponsors
Do you want to get your name out there? Get in touch
Sponsors
Be the first to know about news, speakers, registration options & more